Everything you need to know to visit the paradise island of Corn Island.
Let's start with how to get there.   
Corn Island is a tropical paradise located in the middle of the sea, with an area of 12.9 square kilometers and more than 70 kilometers away from Bluefields, therefore, there are two ways to access it and it is through air travel or a water adventure in a boat that leaves from Bluefields to Big Corn Island.   
The fastest and most convenient way to get to Corn Island is by plane. Prices for the return flight Managua <–> Corn Island varies, but generally is around $200, but we book for you for a DISCOUNTED RATE in combination with Paraiso Beach Hotel. 
La Costeña is the only airline servicing Corn Island and usually has 2 flights per day: 
Managua to Corn Island: 7:00 am. and 2:00 pm. 
Corn Island to Managua: 8:30 am. and 3:40 pm. 
The flight takes about 1 hour and 15 minutes and takes you over the amazing scenic Nicaraguan landscape, filled with volcanos, lakes, rivers and small villages. After about 55 minutes into the flight, you will reach the Caribbean sea. The ocean colors will change slowly from brown to marine blue the closer you get to Corn Island. The landing on Corn Island is dramatic and provides an amazing view of the island, so get your cameras ready. 
How to book the flight to Corn Island? 
This is the easy part. We book a DISCOUNTED RATE in combination with our hotel. All you have to do is send us a Whatsapp at +505 89050354 and we will get your tickets confirmed in no time.  

How to get there by bus and boat? 
Exactly, then as we could deduce the first step is to travel to Bluefields, obviously, only in the case of those who live in other areas of the country.   
In such a situation, we will put ourselves in the place of a tourist living in the capital Managua. And I tell you that it is already possible to make a single trip by land from the capital to Bluefields, its price is fixed and consists of 320 cordobas in any of its schedules and any day of the week, but be careful; you must book and purchase your physical ticket at least 12 hours in advance, so we avoid any kind of mishaps.   
Well, we already have the ticket to Bluefields!  
It is appropriate to know that you should prepare for a bus trip that will take approximately 6 hours from the El Mayoreo terminal to the Bluefields Municipal Dock. Once you start the trip; in a period of approximately 2 hours there will be a stop for a 15 minute break in a dining room located in Juigalpa. After that, you will have to get ready to travel without pauses to the planned destination.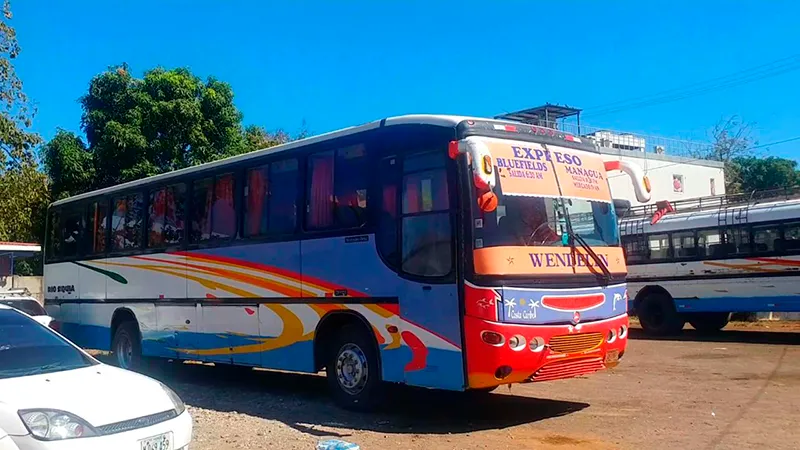 We are already in Bluefields:  
The second step is to embark for the island. The new and modern boat "Hilario Sanchez" awaits us; it is a double-decker boat inaugurated precisely in April 2019 by the National Port Company (EPN), which has comfortable seats, bathrooms, television, air conditioning and dining service that will be at our disposal during the more than 5 hours of travel by open sea, to the sound of the waves and the good atmosphere emerged by tourists eager to live an unforgettable experience.   
Yes, I can imagine what you may be wondering, the fixed price is only 255 cordobas and only travels on Mondays and Thursdays, leaving Bluefields at 8 am, arriving at 2 pm on the sandy beaches and crystal clear stem.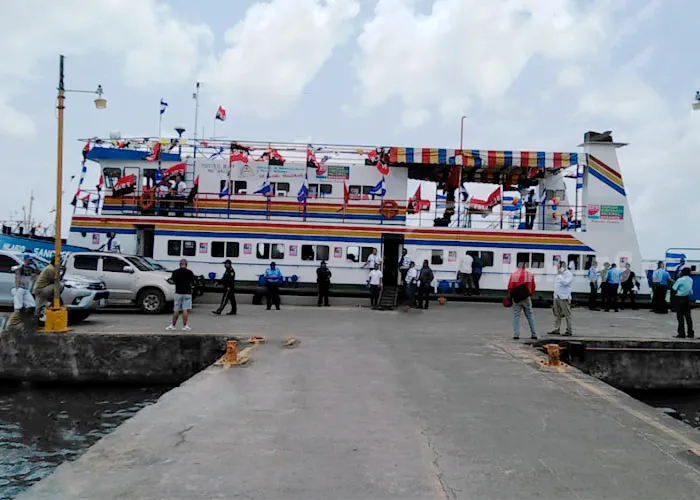 It is very important to know that the return trip to Bluefields takes place on Tuesdays and Fridays at the same time as the outbound trip.   
It should be noted that to ensure the ticket the ideal would be to buy it in advance at the window of the Municipal Pier, which is open from Monday to Friday during office hours and on Saturdays only until noon. Otherwise, on the day of the trip you would have to wait in line from 7:00 a.m. to buy it and taking into consideration that the capacity is only 256 passengers; be alert!  
With the ticket in hand, it only remains to recommend that you prepare for the sometimes aggressive swell of the sea, so people who are considered affected by "stomach instability", are advised to stay most of the time away from the sea view and if they manage to sleep is even better, otherwise the trip could be a total nightmare.  
Now, if you like adrenaline, you would surely choose to be at the top of the boat where the constant "up and down" becomes a "wild" adventure. But beware, no matter how fit you consider yourself to take on such a challenge; don't try too hard to stay there, because sooner or later: everyone ends up throwing in the towel. And just as it is recommended not to overeat during the trip, it also never hurts to carry bags and pills for stomach problems "just in case!"   
Once on the island, we take a couple of minutes to contemplate its celestial aquifers.   
https://paraisoclub.com/best-corn-island-beaches/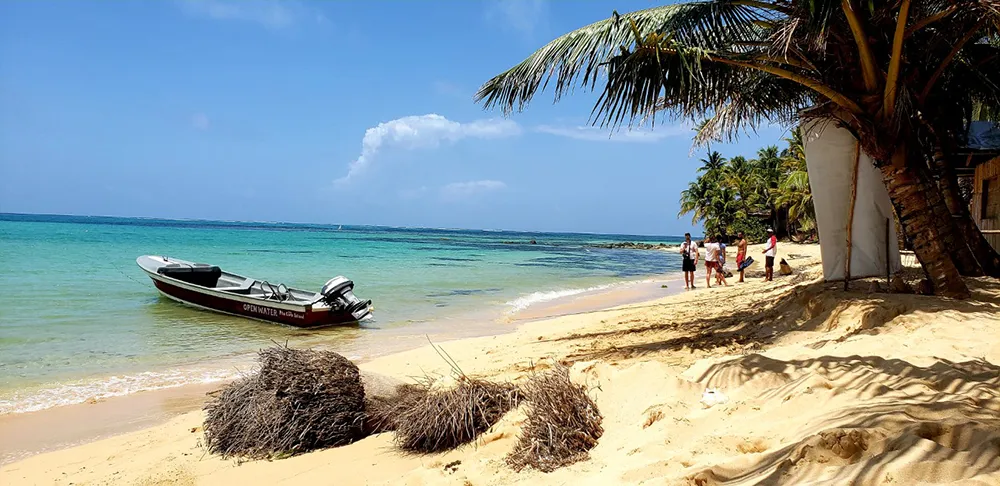 That's the end of our guide, you just need to be encouraged!   
By way of conclusion, on a trip to Corn Island, we assume that:   
1- We travel on Sunday to Bluefields (320 córdobas).   
2- We take the boat on Monday (255 córdobas)   
3- We stay from Monday to Thursday (2,000 córdobas)   
4- Two meals a day (1,000 córdobas)   
5- and the tickets to come; boat and bus (575 cordobas).   
In total we would spend 4,150 per person for 4 days, but obviously we must include other entertainment and emergency expenses.   
Of course, all this may vary depending on your location, number of people and the time you have available to travel. Remember that there is  
Finally, it only remains to mention that these are only instructions and some recommendations, but it is you who will be in charge of giving the magic and special touch to live a unique and unforgettable experience, in addition to continuing contributing to the local economy for the development of the country. Happy vacations!